Early Signing for Eagle Baseball Stars
Yesterday, two of St. Thomas's most spectacular athletes put pen to paper on commitments to Division I schools. Baseballers Josh Wolf '19 and Brody Logsdon '19 are signing to play at Texas A&M and Sam Houston State, respectively.
The two players were an integral part of the baseball team's flare into the playoffs, and they hope to repeat this year with more success. Under new head coach Adam Massiatte, the Eagles plan to put together all of the talent in the dugout and make a run at a ring.
"We will have new leaders on the team because Owen [Meaney], Philip [Matulia] and John [Griffin] left," said Wolf, but there are still a lot of core players left. "Although we lost a few big players, we still are returning a lot of starters."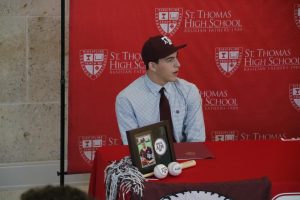 The competition in district may be pretty stout, however, as "a lot of teams in district have gone out to get transfer students," Wolf said. Despite this, Wolf assures that "all of our players are homegrown," even Brody Logsdon, the "Huffman Hero."
Josh Wolf, "the String Bean Slinger," has been a phenomenal pitcher ever since his time on the freshman baseball team, and his talent has only shot up in the past years. Sealing the deal early because of his incredible fastball velocity, he has been committed to A&M since last December. Ever since, it has been hard to spot him not wearing maroon, and it seems like he is up in College Station at least one weekend a month.
"I'm very excited to be an Aggie," Wolf said. "The energy at Blue Bell Park and the overall brotherhood is second-to-none."
Josh has been on several visits to not only the athletic facilities, but the campus and the various social aspects that come with being a student at A&M. He is sure to make an impact at a place like this, and hopefully one day we get to see him in the big leagues.
Since transferring to St. Thomas during the middle of his junior year, Brody Logsdon has become not only a familiar face to people around campus, but a nightmare to opposing players. He is tall and mean, and can run a blazing fast 60 time for his size at 6.35 seconds. Brody Logsdon committed to Sam Houston State to play Bearkat baseball back in August of this year.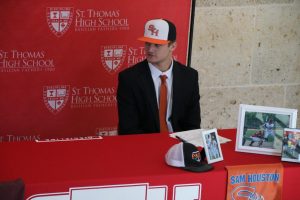 "I am so honored to be committed to such a great baseball organization and school," Logsdon said. "It has been a lifelong dream of mine to play baseball, and this day is very important to me."
Brody says his whole family will be in attendance, as well as many of his good friends from school and trainers/coaches:
"This day means so much because I get to celebrate it with the people who have helped me get here… it's a special day in my book."
255