Fall Sports Celebrate Senior Night
On November 9th, the same night the Eagle football team would secure a district championship by defeating St. Pius X.  The seniors of the fall sports and music programs were recognized on Hotze Field. The varsity athletes from cross country, football, and cheerleading made their way to the field before the game with their parents and guardians. The cold, windy weather did not stop these fall athletes and musicians from getting the credit they deserved.
The football team made their way out first accompanied by their parents, and soon after being recognized the guys went back to warming up. The seniors recognized were Jarrod Brown, Jonathon, Mateo Casares, Austin Castro, Ivan Chavez, Hunter Cheek, Seth Dietz, Dylan Dixon, Corey Felan, Chris Gentempo, Bryce Guidroz, Brandon Hondros, Jamal Jenkins, Josh Madden, Peyton Matocha, Connor McGovern, Ian Myers, Nelson Suarez, John Teague, and Ian Wheeler. Coach McGuire saw his proteges be recognized for their eventful careers as football players, but these seniors are not done. They will return to the field for their playoff push on Friday, November 16th at home against Plano John Paul II at 7:30 pm.
"Senior night was a special experience," Mateo Casares said. "It really shows how much of a family the STH community is."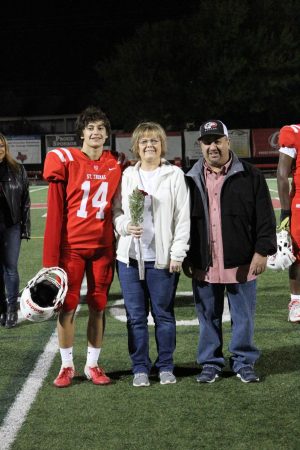 The cross country team was not blessed to have as many seniors as the football team, but they made the best of only having two seniors: Kenny Van Doren and Juan Vazquez. Kenny looks to stop his path of running, but Juan is driven to walk on at the next level at the University of North Texas. They took second place overall at Tapps 6A state meet and showed potential to bring home a title next season. Along with these seniors being recognized, the whole varsity squad was brought on the field after the first quarter to be recognized.
"Although a cold and windy senior night was a fun experience," Juan Vazquez said. "Being recognized in front of all the students and parents is a memory I will never forget."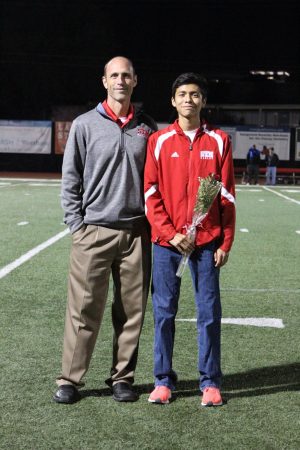 The cheerleaders were the thing group to walk on the field. The cheerleaders consisted of young women from St. Thomas' sister schools: Duchesne Academy, St. Agnes Academy, and Incarnate Word Academy. The cheerleaders from Duchesne were Celeste Fleming and May Koby. The cheerleaders from St. Agnes were Georgia Barton, Kara Flavin, Jessica Forthuber, Dru Kennedy Hawkins, Kennedy Lowe, Sarah Anne Pringle, Sofia Ulloa, and SK Webb. The only senior cheerleader to bring her talents from IWA was Jackie Madden. These young women helped bring the crowd to their feet these past three years and their presence of excitement and cheer will be missed.
"Despite the cold weather," May Koby said. "Senior night was lots of fun."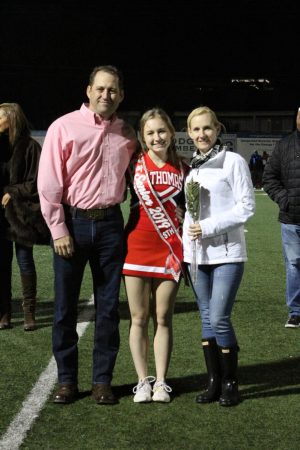 The last group of seniors to make their way to the field was the band. These past fours years these young men and women from IWA have brought the crowd to their feet, entertained fans at halftime, and distracted the other teams as they enter the red zone. These young Eagle musicians were Daniel Bixby, Brandon Jackson, Joseph Lauckner, Seth Macias, James Morgan, and Avery Oswald. The musician from IWA was Alyssa Caver. The band has brought much entertainment these past four years for everyone at the stadium.
"Senior night was warm enough to wear Hawaiian shirt comfortably," Brandon Jackson said.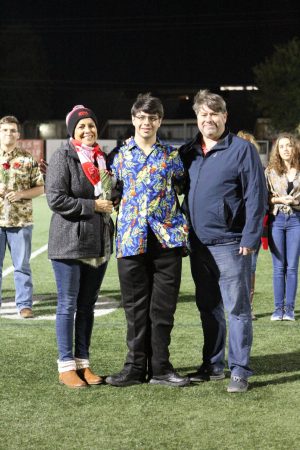 The football team brought home a win in their final district game against St. Pius. There were haters and doubters, but the Eagles came out and took down those panthers. This year they secured the position of running Shepherd.
141
About the Writer
Kenny Van Doren '19, Eagle Section Editor
This is Kenny Van Doren's first year on The Eagle Publications staff. In his first year, Kenny is a section editor and likes to write sports-related stories....