New student center is a hit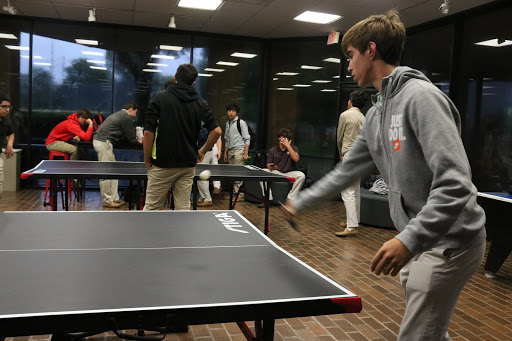 Going into the new school year, many students and faculty notice significant changes throughout the campus. From the new study rooms in the LEC to renovated classrooms, none seem to be more popular and vibrant than the new Student Center.
Once only an occasional meeting room for St. Thomas and an area for students to eat during lunch, the room is now full of games and fun activities for students to be able to relax and have fun before school, during flex time, lunch or after school. 
Some of the new games and features include two ping pong tables, an air hockey machine, Golden Tee, Pac Man, WII, and PS4. All of these games would surely draw attention, and the students have taken note of it immediately and it would soon fill up during every lunch and flex time available.
"I think it's fantastic," principal Dr. Dominguez said. "What I really love is that it brings kids together from different areas of the school. You'll see chess players playing with football players. It brings kids together from all spectrums of the school".
The success of the Student Center is due largely to the fact that students are able to escape their stress of school to loosen up with friends as well as being able to meet new people and create friendships through games and fun.
"It gives you a break from studying all the time.  Sometimes parents pick you up really late and it gives you something to do other than just study so much," Kamal Zeidan '20 said.
The Student Center acts as a "stress reliever" for students without having to wait for stress relief dogs to come before the stress of studying for finals. If you are lucky enough you may even find Dr. Dominguez playing a game of foosball against students.
"I believe that everyone needs a break throughout the day and that everyone needs to let off some steam and have some fun," Dr. Dominguez said.
679
About the Contributor
Beamon Welch '20, Student Journalist
Senior Beamon Welch enters his first year on the publications staff and is very excited about the opportunity to create the yearbook. He enjoys making...