Fr. Wilson Field
St. Thomas purchased the Joplin Campus in 2013 for $66 million and has worked over the past couple of years to renovate and add on to the campus. This campus has already brought St. Thomas a brand new, state of the art, wrestling room, athletic training facility, and weight room for the student body. When I first walked into these facilities I thought that I was in a college or even a professional level facility. However, this is just the beginning of the Joplin Campus developments. In the Spring, ground will be broken on the new multi-million dollar baseball stadium, and eventually, there will be two new multipurpose practice fields in place of the current baseball field. While this is an extremely exciting development for the baseball program at STH, it is important to remember the rich history of Wilson Field and the State Champions that played there. Whether STH baseball players played their entire St. Thomas career on Wilson Field or will only play a single season, every baseball player, I am sure, has a favorite memory of this legendary field.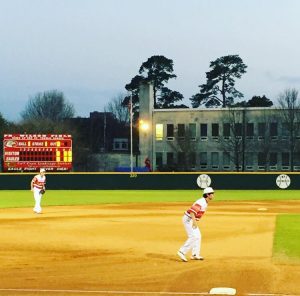 "My favorite memory on Father Wilson field was my first game at St. Thomas against the local home school team. This game is not only memorable to me solely due to the fact that it was my first game, it is also my favorite memory as I got to be the starting pitcher that game. It ensured my trust within the coaches as I knew from that point forward I was going to have a great playing experience every time I stepped foot on that field to compete."- Logan DuPlantis
"My favorite memory of Father Wilson Field was the 2019 Fall World Series. The STH Fall World Series was a really exciting and fun way to compete against all grade levels to see who would become the first-ever champions. My favorite part was the celebration at the end of the game on Father Wilson Field and at the annual Christmas party where the winners at steak and the losers eat beans. It made for a super competitive environment and I loved playing on Father Wilson Field with my friends." -Landon Croker '22
"My favorite memory of Father Wilson Field is when we made a massive comeback against St. Pius my sophomore year on JV. We had played a couple of days before and ended up being down 8-0 before it started to rain, canceling the game before enough time had been played to consider it complete. We decided to resume the game later with the same score and the same inning. We were able to come back in two innings and beat them, winning on a walk-off. They were mad."- Creighton Ward '21
"My favorite memory of Father Wilson Field is hard to pick. I have multiple great memories as an opposing player playing district rivalry games…the game atmosphere was always filled with tenacity and grit, then growing up to be an opposing coach, and now I will be the last coach to lead a season on Father Wilson Field. All are great memories, not one bigger than the other because they are all a part of my journey and connection to Father Wilson Field." -Coach Mazz
1097
About the Contributor
Luke Evans '22, Editor in Chief, The Eagle Magazine
Luke Evans is a senior at St. Thomas High School and is the Editor in Chief of the Eagle Magazine. He is looking forward to leading the staff in producing...