What It Takes To Run Round Up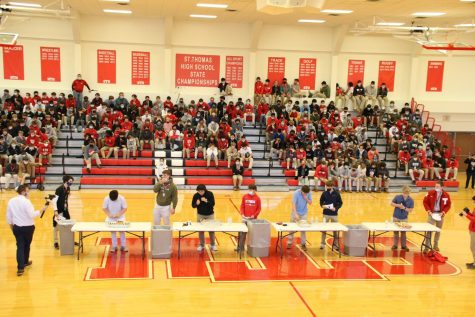 It is already early 2022, meaning that the most exciting and important time of the year for St. Thomas High School has come and gone yet again. After last year's hybrid style Round Up with the incredibly entertaining videos from Gus Boechter and Patrick Pham alongside the exciting assemblies on the football field, St. Thomas has returned to its traditional assemblies with the entire school packed into Reckling Gym, Cemo Auditorium, and the football stands. There is a new sheriff in town, as the 2021-2022 Round Up Board has been assembled and Round Up returning to a sense of normalcy and providing a true St. Thomas Round Up experience to the students this year.
Two members of the executive board who have been doing the heavy lifting of putting together this year's round Up are senior executive board members, Andrew Cromwell and Landon Croker. Andrew and Landon were part of the first group of juniors last year to be brought on to the Round Up Board in order to see the behind-the-scenes of what it takes to count money, make major sales, and put together assemblies that motivate the student body and inform underclassmen.
While planning Round Up assemblies, announcements, and counting may seem like a breeze to many underclassmen, this is simply not the case and it takes certain types of students to be able to create a fun and refreshing Round Up season.
Landon describes his approach to Round Up saying, "We like to think of the Round Up season as a marathon. Each assembly is entertaining and big in its own right… but we would rather ensure that the entire performance of the Round Up season is the best that it can be" Croker said.
However, this feat is easier said than done, "coming up with assembly ideas that would interest the entire school, and not fit niche interests was pretty difficult. We wanted to ensure that we can entertain as many people for as long as possible" Croker said. One of the hardest parts of Round Up is keeping the students entertained during each and every assembly. Throughout this Round Up season, the board has held a bull riding contest, hot dog eating contest, minute to win it games, a slip and slide relay race, and student v. faculty dodgeball games. These assemblies have included all types of students, allowed teachers to join in on the fun, and even had some notable guest speakers speak in order to build morale.
While these individual assemblies are a necessary part of the Round Up season, there is one event that happens just four times in a student's St. Thomas' experience that every alumni remembers: The Final Reveal. The Final Reveal is the legacy of the Round Up Board. Not only will the number that they raised be remembered, but the reveal itself will be as well. This is the moment that every Round Up Board member has been looking forward to since their first reveal, so how exactly did the 2022 board go about planning one of the greatest reveals in St. Thomas history?
"Planning the final reveal was extremely punctual and time-consuming. We had begun the initial stages of planning weeks in advance, and every week our outline for the final reveal became clearer and more defined. We even came up on a Sunday once to do a walkthrough of the reveal. We had to make sure everything was possible and happened in unison" Cromwell said. The reveal included multiple supercars, a helicopter, and of course, a record-shattering $670,000 turn in reveal.
Clearly running Round Up is one of the largest responsibilities that a student can take on at St. Thomas and balancing schedules, stubborn students, and more. However, Croker and Cromwell both agree that being a part of such an incredible tradition that helps some of their closest friends as well as being part of one of the most legendary Round Up seasons has been a true honor, and they cannot wait to see what future classes can do.
About the Contributor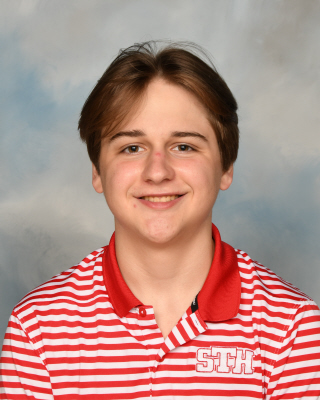 Luke Evans '22, Editor in Chief, The Eagle Magazine
Luke Evans is a senior at St. Thomas High School and is the Editor in Chief of the Eagle Magazine. He is looking forward to leading the staff in producing...