Milling Steel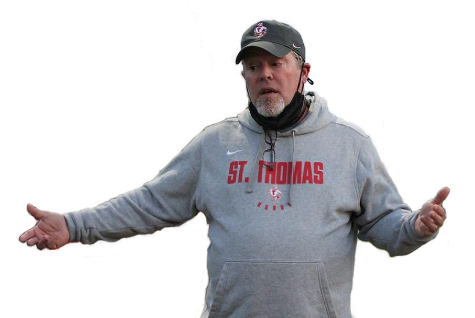 They say a picture says a thousand words. Anyone who has been in Coach Mills' room knows how true that is.
Brett Mills, better known as Coach Mills, is a teacher and coach who has been at St Thomas for 20 years. Anybody who has been in his classroom has noticed just how many things he has on his walls, and the thing that really stands out is the number of trophies, pictures, and articles from various news sources. While many teachers decorate and personalize their room, only one teacher keeps 10 different trophies on their wall, and that teacher is Coach Mills. I don't mean trophies as in something he cherishes, I mean shiny trophies engraved at the bottom, most of them with a rugby ball filled with signatures on top of it.
The pictures on his walls, however, say far more than a thousand words. They tell of an entire season, an entire year, his family, a pride that can only be felt by a father. Anybody who loves a good story will love his room. Coach Mills wears his accomplishments on his walls with pride, but it is far more than simply his accomplishments as a coach or even his accomplishments as a man. They tell his story and the best times of his life. Those moments, not that have shaped him into who he is, but that have shaped others into what they are. That is what he does and that is what loves to do. He shapes the men of tomorrow.
Coach Mills values family massively. With numerous pictures and articles of his family on his walls.
"My proudest achievement? My children." Coach Mills said.
"The picture of my son scoring against Portugal… We won that game, very exciting moment for me to watch him do that" Coach Mills said of his favorite picture on his walls.
He even has one of his sons, Conor Mills, on his coaching staff. A coaching staff that is very accomplished, and has a long history. His coaching staff features Jim Wolfinger as well, the co-founder of the rugby program at STH (along with Coach Mills) and a Texas Rugby Hall of Famer.
Coach Mills' accomplishments extend to coaching at Texas A&M and the University of Houston, coaching the USA under 18 team, coaching STH to 6 State championships, not to mention the amazing people he knows from his years of coaching.
"I got to be really good friends overseas with a bunch of coaches, the director of Leicester Academy, we talk about rugby all the time. It broadened my conception, obviously, I knew rugby is a worldwide sport, but it's a worldwide community, and everybody is very supportive within that community," said Coach Mills.
While all of these achievements are great, it's not the championships that Coach Mills focuses on, but rather, it is the building of culture around the team and the building of men.
"What I'm concerned about is having players grow in character and helping you become better men and better for all the challenges you'll face down the road. Whether that be college or marriage or whatever" said, Coach Mills.
A big part of growing players is making sure they can properly balance everything, especially school. Coach Mills will often push players to prioritize schoolwork. After all, he is the dean of social studies at STH.
Coach Mills also wants to instill confidence in players, letting them take the reins in their training. He tells the upperclassmen to help out the newer players, puts players in positions they can lead from, and lets players govern themselves in large part.
The two things he asks of his players are as follows: work hard and make your teammates better. This is his key to building both championships and to building good men. This philosophy is applicable to any team game and anything in which you have to work with others. One of the best things anybody can do is make those around them better, and one of the best ways to do this is to work hard. Even small changes in one's manner and the standard they hold themselves to are infectious to those around them. This is also why he puts an emphasis on culture in the team and makes sure players stay up to the standards of the school.
Culture comes in massive part from the school and the fact that players are representing STH. This means that the virtues of STH are carried on the field and with everything on the rugby team. Building men is important, and coach Mills doesn't care about benching his best players if they misbehave. To him it's not just a rugby team, it's the STH rugby team.
Coach Mills has a long history at St Thomas, with many players and students going on to do great things. Coach Mills just wants to prepare them for whatever is next. He wants to help shape and create strong men for the future and for future generations. An analogy he uses often is of the katana: a sword said to be made by folding steel on itself. Folding the steel removes impurities in the metal and strengthens the steel. Mills tries to get students and players to have good values and habits by keeping those same values in everything he does and tells others to do. That's how he makes good men, that's how he makes strong men. That's how he mills steel.
About the Contributor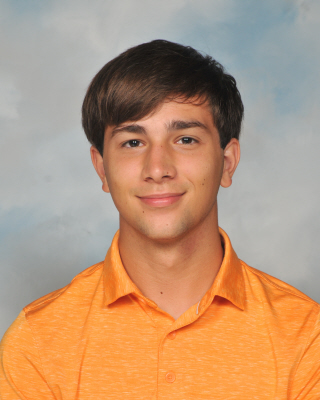 Mitch Onufrow '23, Section Editor: Academics, Student Life
Mitch Onufrow is the student life and academics editor for the Eagle Magazine staff. In journalism, he is most interested in world news. Outside of journalism,...