Track & Field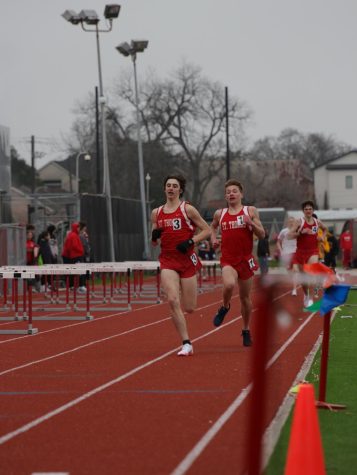 These past few years, track and field at St. Thomas has been wildly successful, winning the State Championship in 2019 and 2021. They were also expected to win the 2020 State Meet, which was sadly canceled due to covid. This record gives this year's team some big expectations to live up to, but it seems that they are ready to take on this challenge. Many of the members started conditioning and training well before offseason workouts started, preparing to add another State win to the record books.
Track and Field season officially started on January 10th with after-school workouts. Depending on which events the runner or thrower competes in determines what workout they follow. For example, a hurdles runner such as Evan Crosswait would have a much different workout than someone running the 800 or the mile. The team spends around an hour and a half on the track before hitting the weight room for their last half hour of practice. With seven full weeks of practice before the first meet, STH track and field is ready to start off this soon-to-be successful season strong.
The team's first meet occurred on February 24 and 25th. The Varsity team placed 1st overall with 218 points beating second place, Houston Westside, by 29 points. St. Thomas dominated the relays. Marquis Kiatta, Cameron Price, Aaron Blackman, and Johann Cardenas took first place in the 4×100 with a time of 45.27. In the 4×200, Kiatta, Joe Rick Madden, Aaron Blackman, and Johnathan Ridley earned another first place with a time of 1:38.48, just barely beating second place.
Other first-place finishers included Kiatta winning the long jump, Madden and Carrick Brogan taking first and second for the pole vault, Charlie Boettcher taking first in discus and second in shot-put followed by Wyatt Green in third. Besides these first-place finishes, St. Thomas track and field consistently had athletes placing in the top five. In nearly every event, there were not just one, but sometimes two or three St. Thomas athletes that placed well enough to bring in points for the team.
So far, the team has performed up to their own high expectations of themselves, but there is still improvement to be made. Winning this year's state meet will be no easy challenge, but this first meet shows the potential the 2022 St. Thomas Track and Field team has.
374
About the Contributor
Edward Seymour '22, Student Journalist
Edward Seymour is a senior and a member of the Eagle Magazine staff. His main interest in student journalism is seeing the process of how it is all put...