Deshaun Watson Trade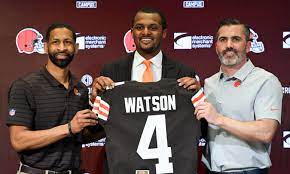 The most highly anticipated moment of the past year has finally arrived in the NFL. After a year of trying to trade Deshaun Watson, the Texans have finally found a trade package they like. The Houston Texans have traded star quarterback Deshaun Watson to the Cleveland Browns in a blockbuster trade. This trade comes as a surprise and not a surprise for two reasons. It is a surprise as to where Watson has been traded, but it is far from a surprise that he has finally been traded.
Deshaun Watson first requested a trade from the Texans in January 2021. A few months after this, news and allegations came out against him, which halted trade talks as teams did not know if he would be able to play. However, as 2022 had come about, Watson's legal troubles had been clearing up and teams were strongly pursuing Watson. The Cleveland Browns were not a major contender for Watson at the beginning of free agency because they had a QB1 in Baker Mayfield. But the Browns decided it was time to move on from Mayfield and pursue Watson. In order to put this to fruition, the Browns had to make the Texans a blockbuster offer (which they did).
The Browns ended up trading away six draft picks for Watson. The draft picks consist of three first-round picks in 2022, 2023, and 2024 in addition to a third-round pick in 2023 and fourth-round picks in 2022 and 2024. The Texans dealt away Watson and a 2024 sixth-round pick. Additionally, the Browns are signing Deshaun Watson to a five-year contract worth $230 million fully guaranteed. This trade haul comes as no surprise to NFL fans, as the Seahawks just recently received a massive trade package for star quarterback Russell Wilson.
Who was the real winner in this trade? The Browns received a franchise quarterback in Deshaun Watson, and the Texans received a massive load of picks to help build the team and got rid of an ongoing headache for the team, so they are both winners. 
546