Mr. Rodney Takacs – A St. Thomas Phenomenon
During his time at St. Thomas, Rodney Takacs – known to the students as Mr. Takacs – has done nothing but improve the standards and reputation of the eagle community. In 2016, St. Thomas' History and English teacher, Mr. Takacs, took the title as Dean of Students, and has become a beloved member of the St. Thomas community.
Mr. Takacs' job as a Dean of Students comes with many duties, as well as opportunities to interact with the student body. They include enforcing the handbook, as well as dealing with students' health and attendance. But of course, we all know him as more than just a dean, but as a member of the eagle brotherhood. Mr. Takacs originally taught at a catholic charter school, however he left and arrived at St. Thomas to teach history.
Mr. Takacs said, "Before I left the social studies department I taught every level of History, which I am very proud of."
His passion for knowledge, as well as the joy he gets from passing it on to students further goes to show how our dean perfectly embodies the St. Thomas spirit. Later, Mr. Takacs left St. Thomas to share his wisdom with another school, however, in 2011 he returned to St. Thomas soon after and became the Dean of Students.
"The opportunities to interact with students," said Mr. Takacs, is the favorite thing about his position here at St. Thomas.
We all know this to be true by the kindness and care that can be observed daily when anyone interacts with him, but it can also be seen by the duties he performs for the school, in order that each and every member may enjoy it to the maximum capacity. He also hopes for students to imitate this behavior, telling students to treat each other with respect, as well as lead others to do the same.
Along with the positives of his position, Mr. Takacs also must deal with a few duties that he will never find pleasant.
"We hate having to move from a situation where we simply talk… to one whereas they continue to do something, that we end up having to give them consequences," said Mr. Takacs.
Unfortunately, his title as Dean of Students requires him to deal with difficult behavior, so for his sake, let's all behave in order to make his life easier.
On the brighter side, Mr. Takacs never shows a lack of joy throughout his day. Which goes to inspire the student body to do the same.
"Seeing Mr. Takacs around the building each day really improves my mood and spirit while at school," said Gunther Blencke.
Finally, Mr. Takacs had some final remarks for the student body.
"Truly live out the GDK Honor Code – As a man of St. Thomas I uphold our honor through goodness, discipline, and knowledge, and I lead my brother to do the same," said Mr. Takacs.
He especially emphasizes the last section of the code: leading other brothers to follow their own example. He asks that the men of St. Thomas become leaders in this way, and that they continue to do what they are doing to ensure an amazing future at St. Thomas.
About the Contributor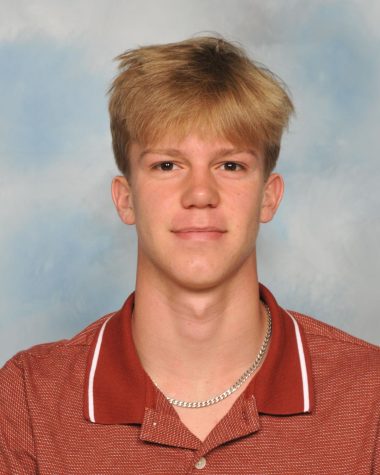 Sam Peters '24, Student Journalist
Sam Peters is a junior and a member of the Aquin Yearbook staff. Sam is interested in capturing the whole of a moment through photography, as well as taking...