It's time to put Andre Johnson in the Hall of Fame
After an abysmal three year rebuild in the Houston Texans franchise that has included three different head coaches, multiple star players leaving or being traded, and the same lousy owner not doing anything about it, one of the worst teams in the National Football League finds themselves back at step one as they are in the midst of yet another head coaching search. However, unlike the last two searches, the Texans have some incentive for possible candidates that could attract them. Promising cap space to spend on players, plenty of draft capital for the next couple years, and a young team. If done right, this could spark a new era for the Texans that points to nothing but success. Despite these few bright spots, there is little hope that things will change given evidence of the past. If this is not enough to get Texans fans back on their feet, at least they have one thing to look forward to.
The opportunity for the franchise to send their first player to the Hall of Fame in Canton, Ohio; this is none other than the best wide receiver in franchise history, Andre Johnson. After being named a finalist in his first year of eligibility last year but barely failing to make the cut for the new members, Johnson is once again a finalist for the Hall of Fame this year. While there was a solid argument last year to put the new members in over him, there are zero reasons for him to not be enshrined this time around. This year's finalist class consists of two other wide receivers next to Andre, longtime Indianapolis Colts receiver Reggie Wayne and St. Louis Rams legend Torry Holt. Johnson's career was one of the most dominant of his time at his position, and he has more than just numbers to show for it. On top of stats and other relevant arguments, here is why Johnson should get the nod over both.
When dissecting the numbers between the three, one thing is pretty clear for all of them; they were absolute DAWGS! Each ranked in the top 20 in receiving yards of all time, each made over six Pro Bowls, and each was an All Pro at one point in their career. They also have the edge over each other in certain categories, as Wayne leads the trio in yards, Holt leads in yards per catch, and Johnson tops the All Pro selections with two. One thing Johnson has little to show for is the winning aspect of his career, a category that Holt and Wayne both have a Super Bowl win in. He rebounds in longevity and durability, as in only 3 of his 14 seasons he failed to play 10 games or more. While winning and longevity are critical for all nominees, when it comes to receivers, voters typically focus on a few specific statistics to measure how worthy they are. These are receptions, receiving yards, and touchdown receptions. Right off the bat, if one were to strictly look at these statistics, Reggie Wayne is the clear superior of the wideout nominees. He ranks first in receptions by 8 next to Johnson's 1,062, he leads in receiving yards by 160 more to Johnson's 14,185, and his 82 touchdowns reign over Holt's 74. The average fan would question why these two are even competing with him. But if anybody has been watching the NFL for a while, they know that it is a team game. Traditionally, however, teams with good quarterbacks tend to have the most success.
This is what separates Johnson from the rest of the pack. Taken with the second pick by a team in its second year as a franchise, Johnson was never put in a position to succeed like he did. In his 12 seasons with the Houston Texans, Johnson's two main pass throwers were David Carr and Matt Schaub. To give an idea about how mediocre the duo was, an average quarterback rating (QBR) is about 50. Carr's career total QBR was an abysmal 38.6, and Schaub's was 50.5, just above average for a lot of which he owes credit to Johnson for. Because football is a team game, even in Johnson's most dominant seasons with Schaub at the helm, the rest of the team performed too poorly to make the postseason. In fact, before the team's first playoff berth in 2011 which was Johnson's ninth season, they only amassed a winning record once in the eight previous ones. With poor quarterback and team play, Johnson was only able to do so much. Yet he did. In those poverty-stricken years, he was still able to lead the league in receptions and receiving yards not once but twice, led the league in yards per game three times, and earned First Team All Pro honors twice along with 7 Pro Bowls. When considering his dominance in the dire situation, the argument for why Johnson should be enshrined becomes much closer with Wayne and ultimately in his favor over Holt. Torry Holt's remarkable career is nothing to ignore, but because of his early retirement, it is hard to pick his greatness over the two others. While he put up outstanding numbers in only eleven seasons, they still trail Johnson and Wayne in most categories, and his accolades alone are not enough to give him the edge. It now becomes a heavyweight bout between Wayne and Johnson.
As stated earlier, Wayne's stats are clearly the most impressive. It makes sense when one looks at who was throwing to him. This quarterback is none other than five time Most Valuable Player, two-time Super Bowl Champion, arguably the greatest to ever do at his position, Peyton Manning. While it is unfair to blame Wayne for playing exceptionally well on a Super Bowl Winning team with one of the best quarterbacks of all time throwing him the ball, it is fair to wonder how dominant Johnson would have been in his position. In 18 less career games played than Wayne, Johnson's numbers are still very close to Wayne's. By doing the math, if Johnson plays those 18 more games and meets his game averages for receptions and receiving yards, he surpasses Wayne by over 1,000 yards with 15,508 for his career and surpasses him in receptions by 91 for a total of 1,161. It makes sense that he does not surpass him in touchdowns, as it's much easier to score with a competent quarterback and all around lethal offense like the Colts had. Another factor that contributed to Wayne's success is that he was not the main passing target on his team, as it was instead Hall of Famer wide receiver Marvin Harrison. As a result, Wayne would line up against the team's mediocre defensive backs whereas Johnson was the main target causing him to go against the opposing team's best defensive back. Though statistics do not matter the most when considering potential enshrines, if they were the deciding factor in this compelling debate, it can be concluded that Johnson would have surpassed Wayne in a majority of statistics with just a slightly better team around him.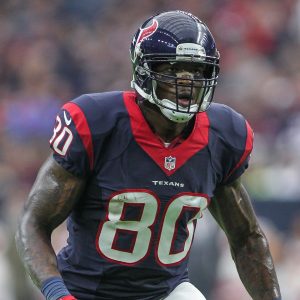 In conclusion, Johnson is the clear choice for his year's receiver spot in the Hall of Fame. Despite a lack of winning and a good team around him, Johnson still dominated the league for over a decade putting up numbers that are superior to Holt's, and arguably better than Reggie Wayne's when considering basic circumstances.
137
About the Contributor
Max Dagley '23, Student Journalist
Senior Max Dagley is a first year member on the staff of the Eagle Magazine. His main interests in student journalism consist of athletics and student...