Time for Christmas Music?
This is the question St. Thomas needs to know the answer to: when is it acceptable to start listening to Christmas music?  Many people argue right after Halloween, when "Spooky Season" is over.  Some people say after Thanksgiving.  When is it?
In order to find the appropriate time to listen to Christmas music, you have to look at the holiday itself and the two holidays leading up to it.  Halloween, on October 31st, stands as the first marker for Christmas music listeners.  The earliest of listeners begin listening on November 1st.  Why don't they listen to it before Halloween?  Well it's because Halloween has its own music, its own themes, and its own traditions.  It is its own separate holiday.  It is also conveniently two months out from Christmas.  Two months is a solid time marker and initially seems appropriate, as moving to Christmas could look like the natural transition.  But one would be mistaken in suggesting that this is the proper time to start listening to Christmas music.  
Christmas music accompanies Christmas time, which is a time that creates the image of picturesque white snow and Santa Claus in our mind.  But here's where the issue lies.  Between Halloween and Christmas awaits Thanksgiving.  Think about the themes and motifs of Thanksgiving: giving thanks, meals, cornucopias, pies, pumpkins, turkeys, and autumn colors.  Thanksgiving is always decorated with mild reds and warm oranges and yellows.  Christmas has themes and motifs of giving gifts, the birth of Christ, Santa, candy canes, and the colors white, green, and bright red.  It makes very little sense at all to begin immediately after Halloween with the Nativity and Santa and candy canes, to then quickly put it on pause for a week to enjoy turkeys and pies and the fall season.  The whole situation makes Thanksgiving less meaningful, and since there are no holidays between Thanksgiving and Christmas, it would be more proper to wait and start listening after Thanksgiving.
"You don't put your lights up before Thanksgiving, and it's the same with music.  Thanksgiving has its own vibe to it that is totally separate from Christmas, and that's why I don't listen to Christmas music before Thanksgiving," Eduardo Carstenson '23 said.
Listening to Christmas music should wait until after Thanksgiving for another reason, too.  The Sunday after Thanksgiving is the first Sunday of Advent.  Advent is a time of preparation for Christmas in the Church.  So as Christians at a Catholic School, wouldn't it make more sense to begin around the time of when we spiritually prepare for Christmas?
Overall, St. Thomas students should avoid listening to Christmas music until after Thanksgiving because that lets you keep the importance of Thanksgiving, preserve the natural flow of the holidays, and match up with the liturgical calendar.
About the Contributor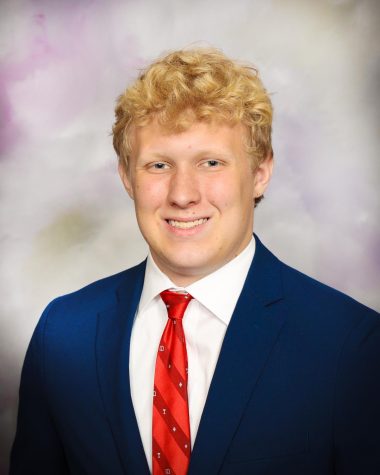 Ted Naeher '23, Student Journalist
Ted Naeher '23 is a first year photojournalism student of the eagle magazine. He is interested in gaining a keen eye for photos and learning how to take...