Warning: Graphic (Novels)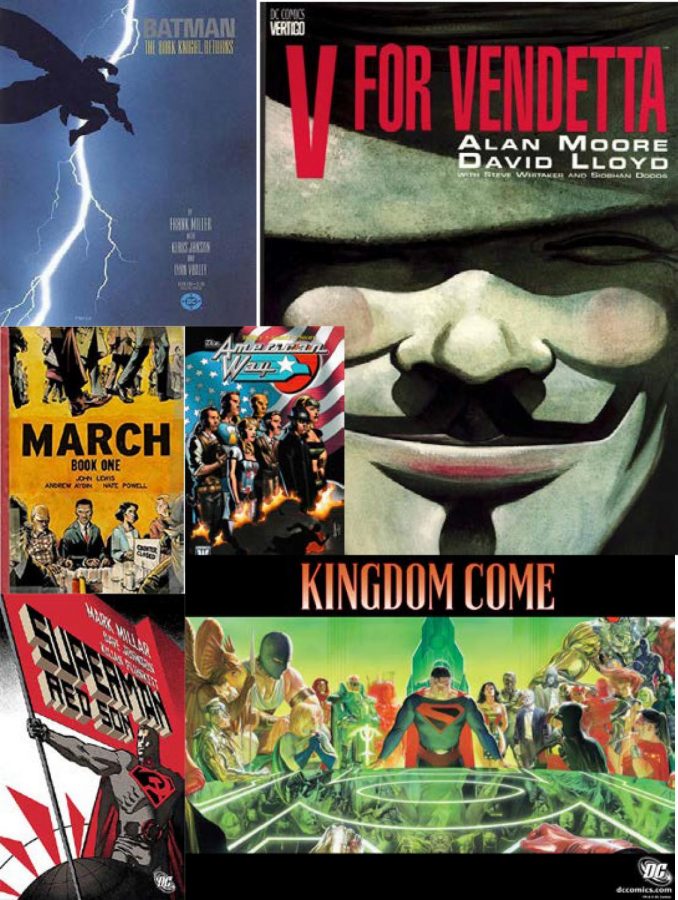 The 2017-2018 school year brought new faces and new opportunities to St. Thomas High School. Many big changes are already known, such as Aaron Dominguez becoming the first lay-principal in St. Thomas history, the block schedule, and changing to the 4.0 grading scale. However, certain new additions to the St. Thomas curriculum have been overlooked, and might just be in consideration for your selection of next years' classes.
The graphic novel class, headed by teacher favorite Will Nash, has captured the attention of many curious students, who are wondering what it entails and what to expect if enrolled. According to graphic novels student, Ben Nordloh, the graphic novels class is "a standard English class, except we're talking about graphic novels instead of standard English media. There are lectures and we go over themes and major stuff about stories that we read."
A second student, Cameron Mills, adds, "there's a big variety in the type of graphic novels that we read. For example, the first novel we read was called March and it was an autobiography of Congressman John Lewis. The novel we just finished reading was The Dark Knight Returns, which is a Batman book."
This course provides an opportunity for students to study one of modern culture's most popular literary forms, the graphic novel.
"The purpose of this class was to give students who already like to read comics and graphic novels a chance to take a fresh look at them from a literary point of view and maybe learn a new way to look at the stories that graphic novels tell. For students who weren't already familiar, I hoped they would see that comics and graphic novels held just as much, if not more, rich content as a standard story or novel," Mr. Nash said.
"
An open mind and an enjoyment of great art and storytelling is all that's needed."
— Will Nash, English Teacher
Additionally, the STH library has one of the biggest graphic novel collections in the city of Houston. Mrs. Shelley, the library director/archivist, is responsible for the large collection of graphic novels and assists in generating interest in the genre.
The graphic novel genre is quite current and its popularity of choice has steadily increased amongst youth making the decision to include a graphic novel class into the STH curriculum, a forward-thinking and wise move.
130
About the Writer
Connor McGovern '19, Eagle Magazine Editor-in-Chief
Connor McGovern is the Editor-in-Chief of the Eagle Magazine Staff. Connor is an Honor Roll/St. Thomas Club student and is a member of the National Honor...