Why Homecoming Mums?
Every year before homecoming, large groups of St. Thomas students go out and buy "mums" for their Homecoming dates, and every year I wonder what a "mum" is and why everyone buys one. As a man who lives by the St. Thomas motto "Teach me Goodness, Discipline, and Knowledge," I decided that I would further my knowledge of "mums" before the pain of ignorance killed my soul.
After some research, I found that "mum" is just short for Chrysanthemum. I then looked up what a Chrysanthemum was, and I found out that it was a flower. The name "Chrysanthemum" comes from the Greek word for gold, "chrysos," and flower, "anthemom." The Chrysanthemum was first used as a flowering herb to cure headaches in Ancient China. The Japanese used it as a crest for their emperors, and they even have a whole festival for the flower. The Chrysanthemum has captured the eyes and passions of many people over the years, so it is no surprise that it also took over homecoming.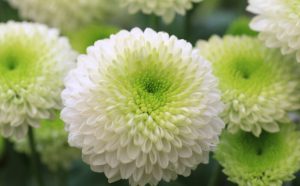 The first homecoming occurred at the University of Missouri in 1911. The tradition of boys giving Chrysanthemum flowers to their dates, though, started in Texas. The mum was in Texas long before integrated schools, and the mums during this period were small simple flowers with little decoration. Mr. O'Brien, a Native Louisianan, did not know or understand what mums were when he first got here.
"I was like, what is this?!" Mr. O'Brien said.
The mums did not start to spread to other places outside of Texas until later.
The "mums" popularity has caused the tradition to be watered down. The "mums" are not even made out of Chrysanthemums anymore. The mums are now made out of synthetic flowers. Why would anyone buy a "mum" that's not even made out of the real flower? The fact that "mums" are not made out Chrysanthemums takes away from the authenticity of the tradition. It is the same thing as wearing fake polo or donating fake money for Round Up. Why are we still doing "mums" during homecoming? What's the point?
The mums are useful at St. Thomas because they are used as fundraisers for the Band. Mr. O'Brien says that the mums used to be a fundraiser for the Student Council.
"I handed that over to [the Band]" Mr. O'Brien said, "It gives the Band money to help them out with going to the games."
This is a very good reason for the mums at St. Thomas, but students are not buying "mums" just to help the Band with transportation.
I asked a few students about why they did or did not buy a mum to figure out why they were buying them. Daniel Coco '20 bought one because his "mom made [him]." Ivan Chavez '19 did not buy one because "[he's] not paying a bunch of money for a mum." Ian Wheeler '19 did not buy one because "[his date] did not want one," and Alessio Del Castillo '22 bought one because "it's part of the tradition."
Mums are a long and treasured tradition in the State of Texas. The mums at St. Thomas also serve as a fundraiser for the Band. So, even though the "mums" are fake they deserve to be a part of St. Thomas's homecoming.
230