Veteran Runner, Juan Vazquez '19, Back for Senior Season
Juan Vasquez '19 is on a comeback to the cross country and track team after sitting out almost a year with an injury.
Juan entered STH as a freshman with big dreams in the fall of 2015. Coming from St. Thomas More, Vazquez ran track in his eighth-grade year and had been an athlete in various sports in the years before. Even though the cross country team practiced the whole summer before his freshman year, Juan did not have the opportunity to join along with the team, so Juan began running with the team in the late days of August.
Juan ran most of his freshman cross country season in the heat of the afternoon because he could not attend the morning practices due to not having a ride at the early hours.
"Running in the afternoons at first seemed difficult because of the heat and being the only one practicing in the afternoon," Vasquez said. "But after a while I got used to it and enjoyed the solitude and being able to push the pace."
Most of his running was done by himself with the guidance of Coach Labus. Juan still competed with the other JV runners during the Saturday meets and ended up competing in meets in early September. The heat of those late summer afternoons prepared Vazquez for meets, and because he worked hard by himself and put forth a lot of effort, he saw big improvements. He ran in temperatures that were 15 to 20 degrees hotter than the athletes attending practices in the morning. Juan passed up the other freshman and even some of the junior varsity runners. He placed second in the 2015 JV Tapps 6-A District meet; he had missed the summer training and the morning practices and still took silver.
Juan entered the summer before his sophomore year as a varsity runner. Juan broke 5 minutes in the mile during his previous track season; a huge milestone for a freshman runner.
"It felt like an honor, being one of the younger guys," Vazquez said. "I was able to show that I belonged with this level of competition"
Juan was on pace to break the STH mile record that was set that previous track season by Wyatt George '16.  His goal was to break that by the end of his sophomore season but came up just short of his goal with a 4:33 mile in the John Cooper Moonlight Mile. Juan had two years ahead of him and a lot of time to break that mile record.
Starting of the 2017 cross country, Juan had a sharp pain in the area around his hip flexor. He missed the first meet of the season, but due to Harvey, the following meets were canceled, so he made his comeback at the Nike South Preview in the Woodlands at the end of September, where Juan finished at the top of the varsity team. Juan then raced at the 2017 Tapps 6-A District meet and placed 7th on varsity. He ran with a lot of discomfort and he knew something was wrong.
"The discomfort first felt like cramps, but as soon as I kept feeling it every day I was concerned it was something much more than that," Vazquez said. "I did not want to let my teammates down so I continued to run hoping it would eventually get better"
He kept working hard until the state meet. Juan still felt the pain, but he ran in the meet. His pain could not stop him, but weather and terrain prevented him from running his best. Juan stopped running after the state meet, and then he visited doctors and physical therapists to find out what was wrong with him.
The doctors he talked to did not find out what was wrong with him, so he stayed out of running for over nine months. During those nine months, the topic of surgery came up when doctors found out that he tore his labrum in his hip.
"Surgery was a possibility," Vazquez said. "But I decided it would be better for me to do physical therapy because the surgery was not guaranteed to fix the tear."
Doctors debated the idea of surgery, this ended up making his process back to running even longer. As of this August, Juan was cleared to run. The top long-distance runner at St. Thomas was back, but he had a lot of work to do. He shows up to morning practice a little later than everyone else, because of his issue of having a ride. He runs in the morning and puts in extra work after school, and he also still does physical therapy every day to get back where he was over a year ago. Juan has the attitude that he is the first to arrive and the last to leave.
"Everyday I am thankful I get the opportunity to run again," Vazquez said. "I will continue to work hard and push myself as far as I possibly can because that is what I love to do."
Juan Vasquez will keep working until the track season, and that is when the show will begin. Juan is in pursuit of breaking the mile record this year and there's no stopping him. It is hard to see the most dedicated athlete be struck with such an injury that it stops his journey to the top, but we will see great things from Juan this spring and great things at the next level.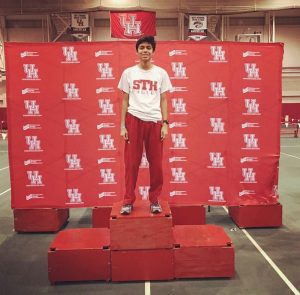 176
About the Writer
Kenny Van Doren '19, Eagle Section Editor
This is Kenny Van Doren's first year on The Eagle Publications staff. In his first year, Kenny is a section editor and likes to write sports-related stories....