Reviving A Homecoming Tradition
Homecoming week saw the revival of an old tradition after Beamon Welch was crowned the 2019 Homecoming King at the dance on Saturday, September 21st. 
Six STH seniors were hoping to become the first King after the dissolution of the male Homecoming court over 15 years ago. Six senior boys, Eli Carter, Daniel Coco, Thomas Fuller, Justin King, Anthony Schlak and Beamon Welch were nominated by the varsity cheerleaders to be voted on by the STH class of 2020 for the official title of 2019 Homecoming King. While student government and administration were initially wary about digging up the classic high school tradition, senior boys have taken to the competition enthusiastically.
"I think it's a good idea because every year they have something for the girls and don't actually do something for the guys – at public school, they have guys and girls and now we do too," Homecoming King Beamon Welch said.
One STH senior, Eli Carter is certainly very excited to have been up for the title.
"People should [have] vote[d] for me because I bring great energy to everything I do," Carter said.
Since school was canceled due to rain on Friday the 20th, the King could not be crowned at the pep rally, and instead was crowned at the dance which ended up being a hit.
The men of St. Thomas were complemented by the homecoming court which was comprised of seniors, Darby Brown (IWA), Sophie Cantoni (IWA), Grace Fisher, (IWA), Alanis Meza (IWA), Kellie Langeland (Duchesne), and Janean Silva (St. Agnes).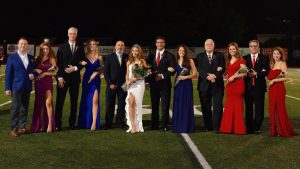 "Whether it's on the field or court I love cheering on the great school," Homecoming Court member Kellie Langeland said.
However, it was Alanis Meza who took home the crown.
"I felt really appreciated and loved," she said about the night.
Due to the success of the event and how well the seniors have taken to the competition this new position could stick around and even see it's way into prom traditions.
1360
About the Contributors
Nicholas Chandler '20, Student Journalist
Nicholas Chandler is looking forward to his first year on the publications after taking Intro to Journalism his junior year. At school, he is active with...
Thomas Valdes '21, Student Journalist
Thomas Valdes Class of 2021 is excited to be on the yearbook staff. What he enjoys most about journalism is the aspect of taking information and making...